Investor / Co–Partner Wanted
We are looking for an Angel Investor and a Co-Partner to help us take LottoGraphs Animated Lottery Videos Nationwide. For the 35 million devoted weekly lottery players in the USA who play lotteries every week. This is a Huge Marketplace. Help Us Reach these Lottery Players. We also need Distributions Deals with Strategic Partners.  
In the  United States, Lotteries are run by 47 jurisdictions: 44 states plus the District of Columbia, Puerto Rico, and the U.S. Virgin Islands., Then we will move into the Worldwide Lottery marketplace Lotteries by Country 
Click below to view the our Executive Summary and Business Plan & To Use Our Integrated Interactive "What If" Financial Spreadsheet.
NOTE:: You need Special Access to View the Executive Summary/ Business Plan and Integrated Interactive what if Financial Spreadsheet
To View the Executive Summary you must become a Registered Free Member
In 2014, Americans spent $70 billion on the lottery
Lottery and Entertainment: Annual Spending in Billions of Dollars
Lotteries took in $70.5 billion in sales in the 2014 fiscal year. That's more than Americans in all 50 states spent on sports tickets, books, video games, movie tickets, and recorded music sales combined.
Help us reach this Huge Marketplace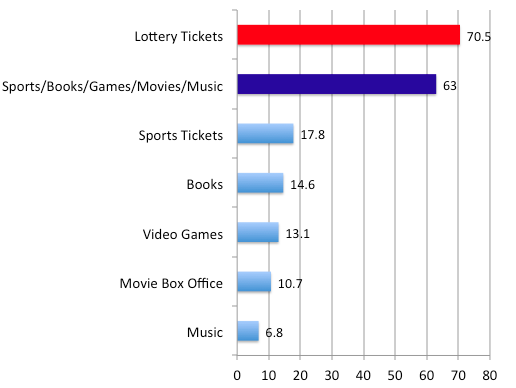 Click here to view the source  http://www.theatlantic.com/business/archive/2015/05/lotteries-americas-70-billion-shame/392870/
LottoGraphs_Investors_Pitch_Aug_2017
---
Investors and Partners – Enter "Angel Investor' or "Partner" in the Subject Field – Below